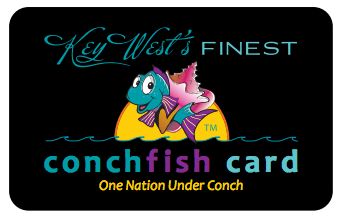 There are two ways to get this card:
1. Become a #Supporter on Key West Finest Facebook page. Just look for the blue "Become a Supporter" button.  It's $4.95/month and charged to your cc through Facebook.  This support helps keep the Conchfish Nation going!
2. Register for 2020 Conchfish Reunion VIP Reunion Week! Reunion Week is limited to 50 people.
Card carrying Members get priority on new merch, bragging rights, free shipping, giveaways and special events!  
Membership has its benefits!
                         CONCHFISH BLACK CARD BENEFITS-more on the way!
10% Off Select Hotels: All http://bit.ly/RileyDiscounts
Key West First Legal Rum Distillery: $4 OFF per bottle.
Free Shipping on Conchfish merchandise.
Air Adventures Helicopter Tour 10% with code KWFINEST
Barefoot Billy's, discount with code KWFINEST