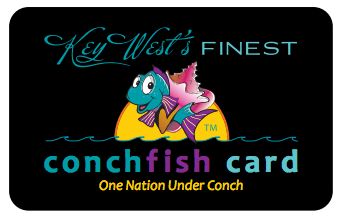 There are two ways to get this card:
1. Become a #Supporter on Key West Finest Facebook page. Just look for the blue "Become a Supporter" button.  It's $4.95/month and charged to your cc through Facebook.  This support helps keep the Conchfish Nation going!
2. Register for any Conchfish VIP Reunion. Reunion Week is limited to 50 people.
3. Book two or more activities using our Conchfish Concierge Jackie! Message her on the Key West Finest FB page to get started and email Amber for your Black Card at keywestfinest@gmail.com
Card carrying Members get priority on new merch, bragging rights, some free shipping, giveaways and special events!  
This is NOT a discount card but Membership certainly has its benefits!
                         CONCHFISH BLACK CARD BENEFITS
Hotel Discounts with code FINE: http://bit.ly/RileyDiscounts
Conch Republic Official Passport! $15 discount with code CONCHFISH 
Key West First Legal Rum Distillery: Conchfish discount
Air Adventures Helicopter Tours 10% with code KWFINEST
Key West Adventures Jeep Rentals code KWFINEST
Comedy Shows! Comedy Key West: Code CONCHFISH http://bit.ly/ComedyKeyWest 
You never know who else will honor your Key West's Finest Conchfish Nation membership, just show it to everyone and see what happens!